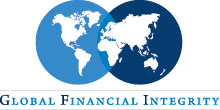 GFI Engages, First and Second Quarter 2014
By Tom Cardamone, May 28, 2014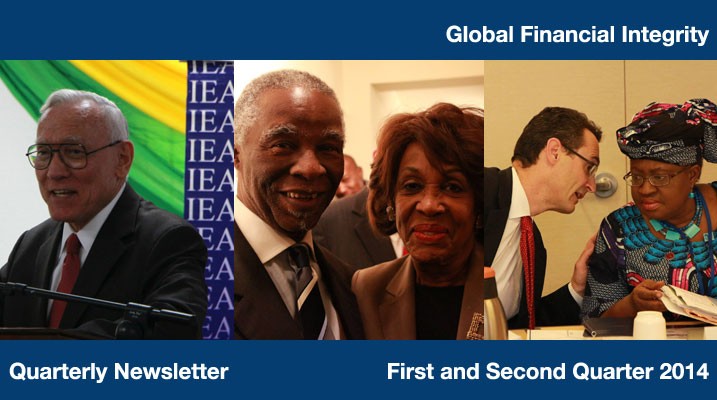 A Quarterly Newsletter on the Work of Global Financial Integrity from January through May 2014
Global Financial Integrity is pleased to present GFI Engages, a quarterly newsletter created to highlight events at GFI and in the world of illicit financial flows. We look forward to keeping you updated on our research, advocacy, high level engagement, and media presence.
This year has been busy so far, with GFI staff traveling to six continents within the first three months alone. The following items represent just a fraction of what GFI has been up to, so make sure to check our new website for frequent updates.
Measurable Change in India
In late April, the Indian Directorate of Revenue Intelligence released a summary of its first two years of increased law enforcement activity targeted at cases of commercial fraud, including illicit financial flows through trade misinvoicing. Their early results have been remarkable: between March 2012 and March 2014, they detected $1.3 billion worth of commercial fraud, and collected $396 million in new revenue.
India is just beginning its effort to crack down on trade-related illicit financial flows, and should serve as an example of the potential that curtailing trade misinvoicing has for development. India began working in earnest to reduce illicit financial flows after a report by Global Financial Integrity showed the economy had lost $462 billion since 1948 due to illicit outflows. Following years of intense political debate and public outcry, the Indian Ministry of Finance declared trade misinvoicing its 'top priority' and began working with GFI and others to address it.
Event: High Level Roundtable on Global Income Inequality and Illicit Financial Flows
On April 11, GFI held a high-level roundtable on the linkage between illicit financial flows and growing global inequality. To our knowledge, never before has such an esteemed group of development experts and policy makers been brought together to discuss IFFs and inequality. We believe this meeting will be a catalyst for joint efforts that push for extraordinary change in the areas of global development and poverty alleviation. Forty-seven members of the development, policy, aid, and foundation communities attended, including:
Hon. Ngozi Oknojo-Iweala, Nigerian Minister of Finance
Hon. Børge Brende, Norwegian Minister of Foreign Affairs and Development
Hon. Pekka Haavisto, Finnish Minister for International Development
Dr. Donald Kaberuka, President of the African Development Bank
Mr. Erik Solheim, Chair of the OECD Development Assistance Committee
Mr. Leonard McCarthy, World Bank Vice President of Institutional Integrity
Ms. Helen Clark, United Nations Development Programme Administrator
Ms. Huguette Labelle, Transparency International Chair of the Board
New Reports
Illicit Financial Flows to and from the Philippines: A Study in Dynamic Simulation, 1960-2011
February 2014
President Benigno S. Aquino III of the Philippines quickly endorsed the study after its release.
Hiding in Plain Sight: Trade Misinvoicing and the Impact of Revenue Loss in Ghana, Kenya, Mozambique, Tanzania, and Uganda: 2002-2011
May 2014
The report was released at an event that featured Raymond Baker and Hon. Mogens Jensen, Danish Minister of Trade and Development Cooperation.
High Level Engagement
GFI President Raymond Baker met with Finnish Minister for International Development Pekka Haavisto in early May to discuss illicit flows and possible collaborations between GFI and the Finland government. Raymond also made a presentation at a government-sponsored conference on fragile states.
Raymond's activities with the UNECA's High Level Panel on Illicit Financial Flows continued in early 2014 and included meetings with Former South African President Thabo Mbeki and other HLP members in Washington, DC, New York City, Paris, Brussels, Abuja, Nigeria, and South Africa. The Panel's final report and recommendations for global action to curtail illicit flows is due in July.
In conjunction with the launch of GFI's study on illicit flows from the Philippines, Tom and GFI Communications Director Clark Gascoigne met with Central Bank Deputy Governors Mr. Vicente Aquino and Mr. Diwa Guinigundo as well as Finance Department Undersecretary Mr. Jeremias N. Paul, Jr. to discuss the report findings. Meetings were also held at the World Bank and the Asian Development Bank.
Advocacy
In the first quarter of 2014, GFI's Policy Team continued to advance key financial transparency issues to various international bodies.  These efforts included consultations with or formal presentations on illicit financial flows-related topics in Brussels (FATF), Paris (OECD), The Hague (The Hague Institute for Global Justice), Abuja, Nigeria (Innovative Financing for Development), and at the World Bank.
Managing Director Tom Cardamone traveled to Canberra in late January to meet with high-level members of the Australian government to promote GFI's key talking points related to the upcoming G20 Summit in Brisbane. Meetings were held with officials in the Department of Foreign Affairs and Trade and the Department of the Prime Minister. While in Australia several additional meetings were also held with organizations in the development, policy and foundation communities as well as with the Australian C20 Steering Committee.
Coalition Collaboration
GFI staff teamed with colleagues in the Financial Transparency Coalition (FTC) in advocacy efforts in the European Parliament.  Specifically, the talking points included a call to revise the EU's Anti-Money-Laundering Directive by requiring public registries of company beneficial ownership. The proposal to include such a requirement passed the Parliament overwhelmingly, and we are hopeful it will remain in the revisions currently being negotiated between the European Council, Commission, and Parliament.
GFI is also a member of the Financial Accountability and Corporate Transparency (FACT) Coalition. In collaboration with other FACT member organizations, GFI helped to lead the Coalition's advocacy efforts for the Incorporation Transparency and Law Enforcement Assistance Act, a bill that would require all companies formed in the United States to disclose their beneficial ownership upon formation.
Featured Chart
Of the five regions studied in Illicit Financial Flows from Developing Countries: 2002-2011, Africa lost more illicit outflows as a percentage of GDP than any other:
Media Hits
Want Sustainable Development? Mobilize Domestic Resources, Curtail Illicit Capital Flows
Devex (Op-Ed by Raymond Baker), May 15, 2014
Developing Africa Loses $15 Billion in Tax Revenue Over Decade
The Wall Street Journal, May 13, 2014
Trade and Money Laundering: Uncontained
The Economist, May 3, 2014
In Sanctions Showdown with West, Russia Playing a Weak Hand
Radio Free Europe/Radio Liberty, March 15, 2014
Palace Vows Reforms at BOC
Philippine Daily Inquirer, February 5, 2014
Sign Up for this Newsletter
Sign up here and select "Quarterly Newsletter" to receive an email version of this newsletter each quarter.