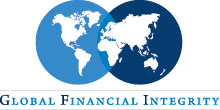 Contact
US Headquarters Office:
Global Financial Integrity
1100 17th Street NW, Suite 505
Washington, D.C. 20036
USA
Phone: +1 202.293.0740
Fax: +1 202.293.1720
Email: gfi@nullgfintegrity.org
London Office:
Global Financial Integrity
7-14 Great Dover Street
London SE1 4YR, UK
Phone: +44 (0) 20 3096 7627
Press Inquiries:
For all press inquiries, please contact Maureen Heydt at +1 202 293 0740 ext. 227 or mheydt@nullgfintegrity.org.
Scam Warning:
GFI does not monitor specific investment projects and does not provide clearance or approval forms for any sort of money transfer process. Any message purporting to provide such services on our behalf is fraudulent and should be reported to the appropriate authorities. If there is any question as to whether a message utilizing our name, logo, or the names of our directors or employees is legitimate, please contact us directly at +1 202-293-0740 or gfi@nullgfintegrity.org.