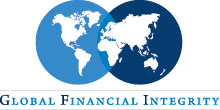 Statement of Principles
Global Financial Integrity, established in 2006, has taken the leading role in placing the issue of financial transparency for the benefit of emerging market and developing countries onto the world's political-economy agenda. We defined and promoted very widely the phrase "illicit financial flows," a concept that is now in the lexicon of virtually all international institutions and national governments. We were the first think tank to exclusively focus on this concern, which is so vital to the progress of humanity in this century.
The principles guiding our activities are:
We commit ourselves to addressing the issues of global development, inequality and security by estimating the magnitude of trade-related illicit financial flows and advocating for financial, legislative and administrative measures for their curtailment.
We utilize rigorous economic analysis, based on data published by international institutions and governments, as the foundation for our reports.
We are intellectually curious and continuously seek ways to improve and expand upon our research and analysis.
We engage with governments, both developed and developing, and multilateral fora at the highest levels to seek pragmatic solutions to real-world problems.
We seek collaborations with civil society organizations around the globe to promote financial transparency and economic and human rights.
We strive to carry out our work with the highest professional, financial and ethical standards and interact with others with collegiality and civility.