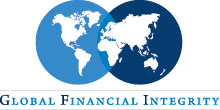 Welcome to the New GFI Website!
Welcome to the new gfintegrity.org! After seven long years, we have finally redesigned our website, with the help of some fantastic web designers and engineers. We are still working out the bugs and generating content, and would appreciate your feedback. To tell us what you think, Tweet us at @GFI_Tweets.
Our goal for gfintegrity.org is to create an engine for education and advocacy on illicit financial flows. Nearly a trillion dollars left developing countries last year illegally, resulting in tremendous amounts of economic and social damage. GFI believes that this represents the most harmful economic condition affecting the world's poor. We hope this website helps us not only make that point, but help guide people to effective, pragmatic policy solutions to curtail illicit flows.
One way we're doing that is using new graphs and visual aids from Datawrapper, which you will find throughout the site:
All of these graphs are interactive, and the data used to create them is embedded along with the graphics themselves.
Some other features of the site to take a look at:
Please, check out the site, and let us know what you think!