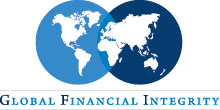 Making An Impact
At Global Financial Integrity, we take pride in the substantial and far-reaching impacts that our work has had on the global debate surrounding illegal money and development. Our mission is to help the world curtail trade-related illicit financial flows and we believe that GFI's efforts have yielded tremendous progress on the issue.
Ground-Breaking Research
When GFI was founded in 2006, the term 'illicit financial flows' (IFFs) was essentially absent from the global debate on crime, development and governance. GFI used it to describe the cross-border flow of illegal money beginning in 2006 and GFI was the first organization to publish research estimating illicit capital flight from all developing countries.
Today, the world is talking about IFFs, and their importance to economic development. Angel Gurria, Secretary-General of the OECD, said in 2013:
"The issue of illicit financial flows is at the forefront of the international agenda. Governments worldwide are joining forces to combat money laundering, tax evasion, and international bribery, which make up the bulk of IFFs."
While GFI can't claim sole responsibility for the efforts of a diverse group of organizations, governments and individuals, we do believe that our work has played a key role in the emergence of the issue on the global agenda.
Real World Results
On top of putting illicit financial flows on the global agenda agenda, GFI's work has directly led to policy change on the ground in many countries and international institutions. Some examples:
India
GFI's research and policy recommendations were cited hundreds of times by the Indian media, politicians and government. After public outcry, the Indian government began adopting some of GFI's recommendations, including a crackdown on trade misinvoicing. According to a 2014 report, India has recovered over $400 million in customs revenue as a result from March 2012-March 2014.
After the then-opposition Bharatiya Janata Party (BJP) and its candidate, Narendra Modi, spent years citing GFI research and campaigning on the issue of illicit financial flows and "black money," Modi's very first move as Prime Minister of India in May 2014 was to set-up a special investigative team to probe illicit financial flows.
Guatemala
Former Guatemalan Vice President (and current GFI board member) Rafael Espada asked GFI to assist the country in creating more financial transparency to curtail illicit financial flows. Over 12 months, GFI consulted with a delegation led by the Vice President and delivered over 20 policy recommendations, 75 percent of which were implemented by Guatemala.
Malaysia
After years of fierce public debate, the Malaysian government formed an inter-departmental Task Force on Illicit Financial Flows. A delegation led by the Attorney General met with GFI in 2013 to discuss the issue. Following that meeting, the task force was made a permanent institution and the central bank announced plans to mitigate trade misinvoicing.